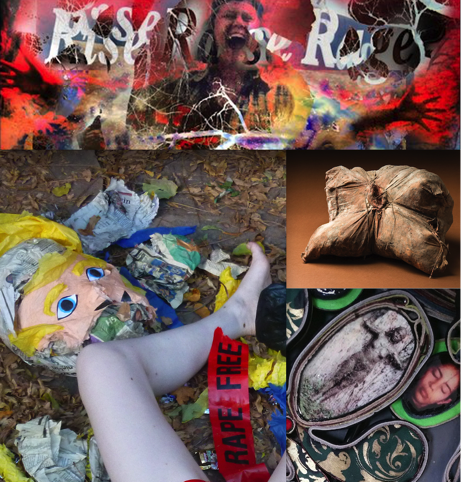 The Feral Howl
A Feminist Response to Our Time
• Opening Friday . January 12 . 5–7pm
• Performance Night Saturday, January 20, the anniversary of 45's inauguration and the Women's March. $5–10 suggested donation, with proceeds donated to Esperanza women's shelter. No one turned away.
• Last chance Saturday, Jan. 27.
Freeform Art Space is pleased to present The Feral Howl: A Feminist Response to Our Time, an exhibition that addresses the U.S. government's historic and current assaults on the bodies of women, femmes and Mother Earth. It is timed to coincide with the anniversary of 45's inauguration and the 2017 Women's March.
The exhibition is guest curated by the Furies, a Santa Fe feminist arts collective composed of Kristin Barendsen, Patti Levey, and Lauren Ayer. Featuring the work of 12 women and non-binary artists, the show includes painting, drawing, sculpture, photography, video and installation. The Furies define "the feral howl" as "a visceral, primal expression of pain, resistance, and strength that invokes the transformative power of art."
There's a story behind every piece in this show. The Furies' work includes photography, installation, video and performance inspired by the actual bashing of a Trump piñata on Election Night. Ahjo Sipowicz got detained by the Santa Fe Police for flashing their breasts at the post-election protest; they made art out of that experience. Andrea Senutovitch and her daughter Alexandra Ewing collaborated on photocollages about their fear around Andrea's breast cancer diagnosis and whether she would be denied healthcare. Andrea Vargas-Mendoza made art in response to the California fires and the degradation of Mother Earth.
The paintings of Nikesha Breeze and Alicia Piller address this country's systemic violence against women of color, while April Hartford's installation is about the epidemic of suicide among trans people and the transphobic stance of the current government. Sarah Hewitt's work is about gender identity, sexuality, power, and domination. And Sarah Stolar made some truly badass feminist resistance art.
Artists
(In alphabetical order)
• Nikesha Breeze—painting
• The Furies—photography, video, installation, performance
• April Hartford—photography and installation
• Sarah Hewitt—drawing and sculpture
• Alicia Piller—painting and sculpture
• Andrea Senutovich and Alexandra Ewing—photocollage
• Ahjo Sipowicz—photography, video
• Sarah Stolar—paintings
• Andrea Vargas-Mendoza—drawing