Art's Birthday artbeat santa fe interview Kathryn M Davis
Art's Birthday radio cafe santa fe interview Mary-Charlotte Domandi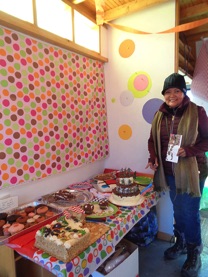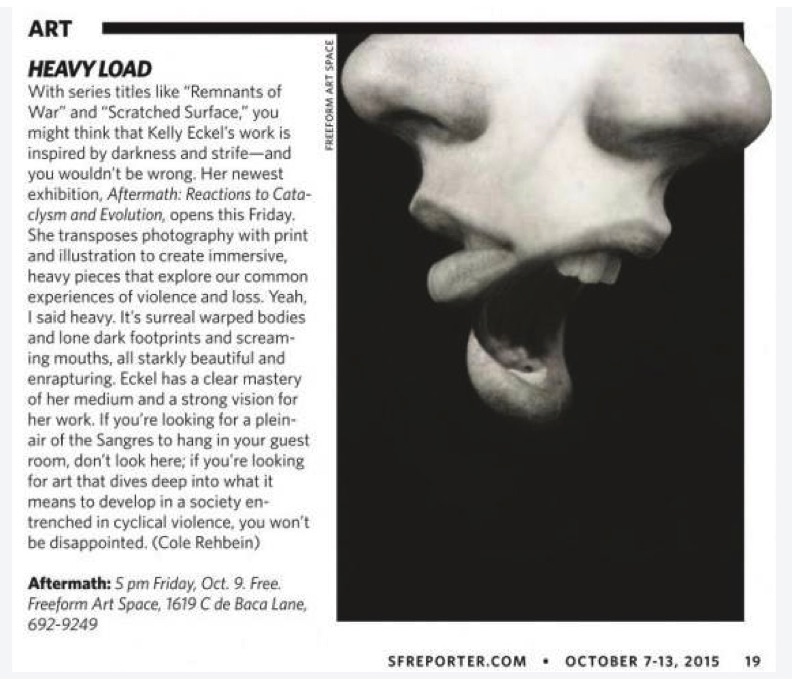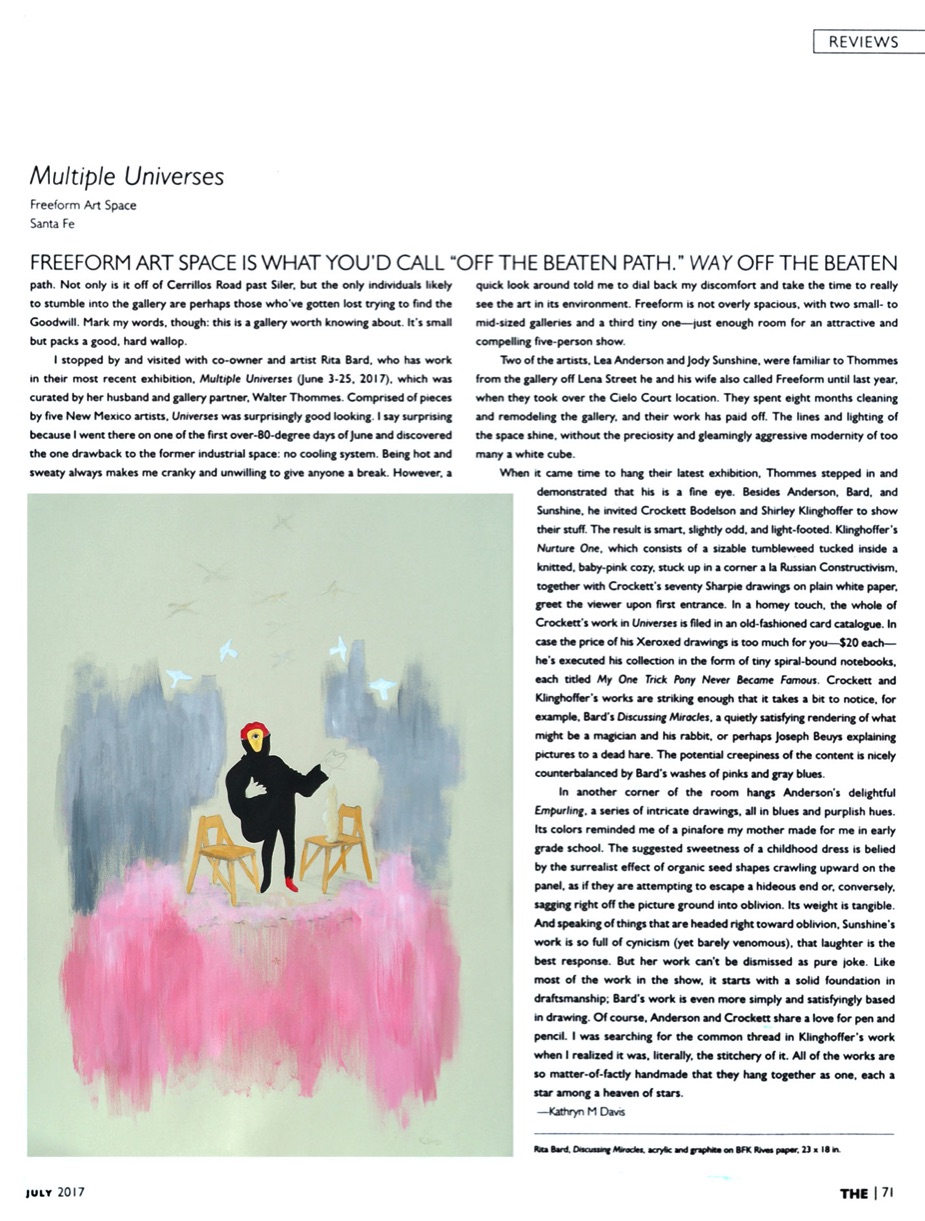 Arts Preview:
The Only Way Out is Through
curated by Niomi Fawn, Curate Inc.
Fearsome Santa Fe arts foursome gets colorful, kicks all the asses
September 26, 2017, 1:00 pm
By Alex De Vore
As the midtown arts boom spurred by Meow Wolf continues, so comes the rise of smaller spaces like Freeform Art Space. Located off Cerrillos Road near Big Lots in the same little strip mall as a craft store, the admittedly small gallery with neatly appointed white walls and the intimate rooms comes with the promise of becoming whatever one wants, and it is exciting.
When I arrived on a recent Sunday afternoon, the floor was littered with art works; a scant few were hung; and all around the building scurried four heavy-hitter locals: Jared Weiss, Cyrus McCray, Tim Reed and Todd Ryan White.
They're preparing for their first group show, The Only Way Out is Through, and it promises to be the quintessential don't-miss visual arts experience of the season. The show hit our radar thanks to its curator Niomi Fawn, whom SFR recently featured in a column about Show Pony, her mobile art gallery. But we're here to focus on the artists themselves. Let's meet them.
Tim Reed
With only six years as a Santa Fean under his belt, Reed may be a relative newcomer, but his ethos and practices ooze a certain Santa Fe outsider art charm. Reed is a student of astrology (a pursuit that he says will constantly evolve) and incorporates the ancient practice into his work, at least insofar as mindfulness is concerned. "It guides a lot of my quote-unquote philosophy," he says, "but I'll consider myself a student for at least another decade; it's that continued investigation of the unknown—wisdom science has been used and studied for thousands of years by every type of individual, and it still holds my … musings on the natural world are endless."
As for his work, Reed creates chaotic and colorful painted abstractions that are borderline psychedelic with swirled touches and textures, all packed with detail. Generally speaking, he uses colored pencils and water-based paints such as acrylics, watercolors and gouache for smaller pieces, though he hardly limits himself in scope. Still, some of the larger pieces he'll exhibit during The Only Way Out is Through are ones he considers personal successes.
"I like to be playful and coyote-ish at times," he says, "but if you're going to stay in this environment, you have to self-cultivate." Reed says he's evolved his practice by simply letting things come to him. He's embraced not knowing or letting go, so to speak. Outside of the show, Reed sells postcard subscriptions through his website (deermit.com), a quarterly mailer containing custom-painted postcards he's created. That would make one hell of a gift, for a loved one or yourself.
Jared Weiss
With his dreamlike yet fuzzily lifelike representations of his own experiences and the people in them, there is perhaps no local artist enjoying quite the same level of buzz as Jared Weiss. Even he admits it's been a whirlwind the last year and a half, with solo and group shows across town (an August opening at form & concept was much ballyhooed, indeed). As we sit in Freeform Art Space, we observe one of his works together. It's a coming together of people he knows—though, according to Weiss, one subject evolved to be missing his head over the course of its creation.
This concept of facelessness is present in many of Weiss' paintings. It's an embracing, he says, of psych analysis and dream logic. "Dreams feel very urgent," he says, "but you don't often have a resolution." His paintings, then, may help to pursue one. Much of his work casts the people in his life within the painting. "I think of them as actors and actresses," he says. "They're playing roles, they're characters that are a part of my psyche."
Weiss is a self-professed fan of Freud and his ideas on dreams, adding that he feels it's natural to repress memories and then build them into distorted new ones by layering others over top of them. "Distorted" may be one of the best ways to describe a Weiss piece as well—the imagery and people are recognizable enough, but with bold color choices and haunting imagery, they approach the fantastic—again, like a dream. This could have something to do with mood, as Weiss says light is important to his headspace and process.
Reminiscing about time spent in Chicago, he recounts a period spent painting in a windowless basement. "I began to notice that everything I was doing was black and white," he says. "I'm really effected by the light; it's why I love living out here."
Todd White
Perhaps better known as a pen-and-ink illustrator, Todd White embraced a broader color palette for The Only Way Out is Through. This was due in part to pushing his own boundaries, but also as a reaction to his fellow exhibitors. "It's very different from what I've made before," he says. "It's very colorful, and that's what I've been most excited about—not working with black and dark subject matter, with really bright colors."
White follows in the footsteps of many artists of his generation; namely, he came up appreciating the graphic work found on skateboards and in album art. His previous works have aligned with these styles, though White often implements stoner ephemera, fantasy elements and a borderline horror comic aesthetic. These remain intact with his new pieces. Melting skulls and bizarre three-eyed creatures emblazoned on thick paper in pastel tones create an almost humorous effect.
White's style is detailed beyond belief, though not difficult to view and digest. "They look like artwork for kids' rooms," he says, "but when you look closer, it's melting faces." This is achieved with watercolors, ink and gouache, and no—they wouldn't look out of place in a kid's room.
Cyrus McCray
As we speak, Cyrus McCray is perfecting his portfolio to apply for arts grad school. "I'm getting close," he says. "I put it off a year, but I'm close."
The objective, he says, is to show professionally, gain representation and, if he chooses, to teach down the line. He already graduated with a BA in fine arts from the California Institute for the Arts, so he's clearly on his way.
The interesting thing about McCray, of course, is his lack of dedicated style and medium. He's created illustrations, dynamic paintings, three-dimensional wooden sculpture and beyond. He's embraced the aesthetic of Dia de los Muertos, he's examined the relationship between artist and viewer; we've even seen him create staggeringly accurate ballpoint pen portraits while sitting on the floor of a gallery. He is, perhaps, one of the most underappreciated local artists we have—though this will hopefully change soon.
For The Only Way Out is Through, he's put much thought into what he'll show. "I'm negotiating generative systems," he says. "There's a formal dialog taking place that hearkens back to minimalism and early conceptual art." Thus far, the early works he's prepared for the show are simple paintings, though with a depth of field that is stunning. McCray's ability to convey what he describes as having topography seems effortless, but is spellbinding.
"I'm playing with a lot of different things, I'm investigating," he continues. "It's very pared-down work, almost simplistic, but it will be in stark contrast to the way Tim and Todd and Jared work—I'm creating work that has no representational anchor, but I've taken into consideration the way they work and define art, and my … objective is to position myself in opposition to what they do. Not that I disagree with or think theirs is a invalid stance to take. It's just a different conversation."

PASATIEMPO 11/17/2017
Out of their heads: "The Kinesphere of You and Me"
Iris McLister
• Albuquerque and Santa Fe are only an hour apart," said independent curator Aimee Gwynne Franklyn, "but they don't seem very connected, at least not from a creative perspective. Why is that? I'd like to create more of a bridge between the two cities." Questions of distance and relationship come naturally to Gwynne Franklyn. The Kinesphere of You and Me — the fourth exhibition she's organized at Santa Fe's Freeform Art Space — is inspired by the concept of kinesthesis. The title refers to our individual human "spheres," or spaces within which we maintain our emotional and physical selves, sometimes to isolating and detrimental effect.
• The exhibition brings together four artists, two from Albuquerque and two from Santa Fe, each of whom work in nontraditional media. Gwynne Franklyn, a 15-year resident of Santa Fe by way of New York City, is passionate about curating conscientious shows. "Sometimes we're in our own echo chambers, our own bubbles, and it's important to expand them," she explained. "In one way or another, all of the artists in this show are attempting to reach out and communicate with each other through their work."
• Gallery owner Walter Thömmes opened Freeform with his partner and wife Rita Bard (whose work is also included in Kinesphere) just off Second Street several years ago, but it's only been in its current spot, in a strip mall off Cerrillos Road, for six months, in a space that feels larger than the 850 square feet it occupies. Immediately upon entry, visitors to the show are greeted — or rather, confronted — by the wall sculpture of Albuquerque's Alexis Kaminsky. Kiln-fired clay geometric configurations, each containing dozens of jammed-together, mostly black-painted shapes, have an almost emotive, defiant physicality; they readily recall the broody wooden assemblages of sculptor Louise Nevelson. "At this point," Kaminsky said, "my work is very internally driven. I'm an academic by training and tend toward being highly cerebral. Art-making has been a welcome and necessary counterbalance to living in my head." A faint but hypnotic neon glow emanates from most of the pieces, a subtle corona of colored light that comes from Kaminsky's practice of painting the backs of her work with bright color. Once mounted, they cast a buzzy wash of color onto the crisp white walls behind them.
• Marina Brownlow's textured assemblages can be hard to parse. Ethereal masses of finely spun wool dangle from the gallery's ceiling, like ghostly cocoons; elsewhere, a heavy-looking wax-and-fiber sculpture is unnervingly fleshlike. Of her work, which she said will be part of a larger exhibition at the Center for Contemporary Arts next spring, Brownlow remarked, "It's open to interpretation. Some of it's so new that it's often difficult to talk about; it's ahead of me, so to speak." Hanging on a wall in the gallery's largest room is Gwamm, a stretch of fishing net that looks well-worn and discolored by the sea. In its center is a gently bundled bit of wool that is tenderly cradled, rather than caught or tangled in, the net.
• Jane Gordon's fabric installation Cost of Cotton occupies practically the entirety of a gallery room. Draped across multiple walls, it's covered with ceramic flowers in varying states of decay and bloom. The piece is a commentary on what we put on our bodies, and how clothing can come at a high price from both an environmental and human perspective. "To me," Gywnne Franklyn said, "this piece refers to the dichotomy of consciousness — or lack thereof."
• The show's most bizarre, and arguably most fun, contribution is American Is Beautiful, Rita Bard's garishly colored and life-sized cow sculpture, which is erratically adorned with plastic toys, a teetering stack of chairs, and segments of cloth. Bard started the piece last year, but Gwynne Franklin encouraged her to finish it in time for the show. "I needed an antidote to my own feelings of helplessness and sadness concerning the current situation in our country," Bard said. The cow is an "underdog figure," according to her, which represents "things I like about Americans and America: resourcefulness, a spirit of fun, the ability to laugh at oneself, and last but not least, a strong sense of fairness that I think is being undermined at every turn."
• All of the previous exhibitions Aimee Gwynne Franklyn has organized at Freeform have showcased female artists. "I like giving a platform to women artists," she said. "Maybe the fact that the artists in this show are women effects how their work communicates with each other, and really, that's the essential component of the show."
•



Freeform Art Space's show "The Feral Howl: A Feminist Response to Our Time" is currently on exhibit.
Outside the Mainstream Alternative art spaces unite, forming Santa Fe Alternative Arts Association
January 21, 2018 by Emily Van Cleve
"I feel a responsibility to do this," says artist Rita Bard about founding Freeform Art Space, one of more than a dozen alternative art spaces in Santa Fe. "There's wonderful work that needs to be out there in front of the public. So many voices are shut down in traditional venues."
In an effort to bring attention to non-traditional venues, the founders of Axle Contemporary, a Santa Fe art gallery on wheels that was established in 2010, set up the Santa Fe Alternative Arts Association last June as a way for locals and visitors to know about the innovative and experimental art spaces in town.
"Tourists are interested in unusual ways of presenting art, but they have no way of knowing where to find the spaces in Santa Fe that do this," explains artist Matthew Chase-Daniel, who co-founded Axle Contemporary with artist Jerry Wellman.
"I found these spaces and invited them to be part of Santa Fe Alternative Arts Association. We have a website and a Facebook page that everyone can update with the latest information about their shows and events."
Chase-Daniel already knew Bard, who had started Freeform Art Space three years ago in a room adjacent to her studio in the Second Street area. When it became clear that in order to grow Freeform it was necessary to move it to a larger and more appropriate location, Bard and her husband Walter Thömmes found a multi-room space on Cielo Court last March.
They've been hosting provocative shows since then, including "The Feral Howl: A Feminist Response to Our Time," which is currently on exhibit.
Other members of Santa Fe Alternative Arts Association include Currents New Media, which offers the community ways to experience new media arts through an annual festival; No Land, a downtown space operated by Strangers Collective that features solo and small group exhibitions of visual, performing and literary work by emerging artists; and Show Pony, a mobile gallery showcasing work by local artists and artisans.
Challenges are aplenty when it comes to sustaining an alternative art space. Bard is paying for the space and expenses associated with shows out of her family's pocket. She takes a small percentage of art sales to help defray costs.
Axle Contemporary, which is an LLC and 501(C)(3), depends on individual donations and grants to help cover salaries and operating expenses.
Axle Contemporary parks its van at various locations around town during exhibitions.
Social media and word-of-mouth are often the primary ways that alternative spaces promote their Santa Fe shows since advertising budgets are usually non-existent.
"We're reinventing ourselves all the time, always weighing our principles against the reality of surviving," says Chase-Daniel, who says that one of Axle's unique challenges is finding parking places for its van.
"Many alternative art spaces are not profitable," he continues. "To help keep them open, the community needs to support them financially and show up at events. That's how to let them know they are valued."
For more information about the Santa Fe Alternative Arts Association, visit santafeaaa.com